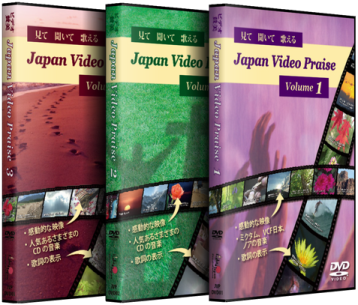 An easy-to-use, multi-purpose Japanese worship tool!
---
What is it?
A series of DVDs, each of which contains 12 praise songs in Japanese, with inspiring video and onscreen lyrics
Featuring recordings from well-known music ministries like Michtam, City Praise, VCF Japan, Praise Station, Noah, and others
About half the titles are written by Japanese Christian songwriters; the rest are Japanese lyrics for popular English songs
Lyrics can be shown in your choice of just Japanese writing or Japanese plus romanization
Songs can be played one by one, in theme-based "song sets" of 2-4 songs, or in continuous loop play
List price: 3000 yen (discounts available – see below)
How can it be used?
During individual worship times
As instant worship for Bible studies, house churches, cell churches, or other groups
As background at special events
To introduce new songs and modern styles at church
To learn to sing Japanese Christian songs
Anywhere you have a DVD player!
---
Video Samples
Volume 1:
Yamayama Ga Umareru Mae Kara (From Before the Mountains Were Born)
Asa Goto Ni (Every Morning)
One Day
Lord, I Lift Your Name on High
Lord, Reign in Me
Draw Me Close to You
Juujika No Kotoba (The Word of the Cross)
The Comforter Has Come
Refiner's Fire
Kurayami Ni Hikari (Light in the Darkness)
Mite Ni Yudanete (Entrusting to Your Hand)
Kansha To Yorokobi (Thanksgiving and Joy)
Volume 2:
Hear Our Praises
All the Earth
Blessed Be the Name
Marvelous Grace of Our Loving Lord
Power of Your Love
I・N・O・C・H・I (Life)
Above All
Every Move I Make
Furimukanai (I Won't Turn Back)
Shout to the Lord
Medley: Watashi no Inori / Ookiku Shiyoo (My Prayer / Let's Enlarge It)
WoWoWo Iesu Wa Shu (WoWoWo Jesus Is Lord)
Volume 3:
That's What We Came Here For
As the Deer
Seirei no Kaze Fuite (Holy Spirit Wind, Blow)
Blessed Assurance
Sono Hi Zensekai ga (On that Day, the Whole World)
Shu Iesu no Sugata ni (Into the Image of Jesus)
I Give You My Heart
Days of Elijah
Shu o Miagete (Looking Up to the Lord)
Furii (Free)
Still
One Way
---
Where to Buy
Paypal shopping cart right here (discount off list prices):
When you check out, you can pay on Paypal's secure site by credit card or Paypal account balance. (You don't need a PayPal account – you can use a credit card even without an account.) Prices are 3000 yen for the first DVD and 2500 yen for each additional, or 7000 yen for a complete set and 6000 yen for each additional set. (Actually, you are welcome to use the set prices to mix and match – just tell me in the remarks at checkout time how many of which volumes you would like.)
| | | |
| --- | --- | --- |
| | Complete Set | |
| | Volume 1 | |
| | Volume 2 | |
| | Volume 3 | |
At your local Japanese Christian bookstore:
They are currently only stocked in a few stores, but your local store should be able to order them through WLPM Distribution Center.
In Japan, by the cheapest method:
In Japan, if you pay by postal transfer or bank transfer, you'll get the lowest prices:
One DVD: 2,300 yen
Three DVDs: 6,000 yen (typically a series set, but you can also mix and match)
Two or more sets (or mix-n-match six DVDs): 5,000 yen per set of three
Contact me here to order by this method.  I'll even cover the shipping within Japan!
Or contact me about wholesale orders for stocking in your church bookstore or other outlet.